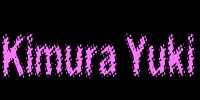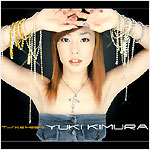 Kimura Yuki is absolutely the coolest jpop singer... ever. Her music is so original and it even sounds good to most people that don't even listen to japanese music. Her tunes are are great for dancing up beat. She's definately an awesome singer you don't want to miss out on.
Kimura Yuki Gallery:
..Click image for better view..

kimura01.jpg

kimura02.jpg

kimura03.jpg

kimura04.jpg

kimura05.jpg

kimura06.jpg

kimura07.jpg

kimura08.jpg

kimura09.jpg
Kimura Yuki Wallpaper:
800 x 600
Click to open in new window...

Download Kimura Yuki Music:
I'm getting space to upload some songs.. ^^
Recommened songs:
Twinkle Heart
Deek Sky Heart
Pink Graduation
Fall in You
Halloween Dream
Summer Rain
Unbalanced
Kimura Yuki Links:
http://www.shudaika.net/artist/yuki/index.htm
(You can download her songs and music videos here!)
< B A C K